Snake rings are becoming a more popular fashion statement as of late. And yes, fashion is slightly off topic compared to what we usually write about.
But, since it's still in the realm of snakes, serpents, and the people who love them, we felt obliged to create this piece. Whether you're a snake lover, fashionista, or both, you'll find our picks for the sleekest snake rings on the market.
Oh, and Snake rings aren't just for women. Believe it or not, we found plenty of rad looking men's snake rings during our research. Aside from that, you'll likely find something that fits your taste in this roundup
We review everything from silver, rose gold, yellow gold, and even a collection of serpent bands with gems and jewels.
In any case, we hope you find what you're looking for. After all, there aren't too many of these styles out there. So, you'll find just about the best variations of this style of ring below.
Without further adieu, we give you our take on the hottest serpent finder wearables out there.
Women's Silver Snake Rings
---
This sleek, silver serpent band has a low profile and isn't too flashy. It's discrete, yet makes a statement. Perfect for someone who wants a badass look, but doesn't want to make a big deal about it.
It resembles a real coiled snake, and even has small eyes on the head of the beast.
The ring is sterling silver plated, and comes in various different sizes.
---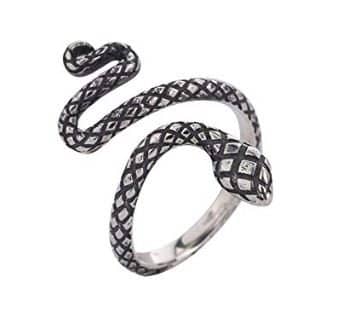 The black crisscross design on top of a silver base makes for quite the fashionable, and also low profile ring. Like the above ring, this is a snake ring that isn't too "in your face". It's great for someone who wants the look in a low profile kind of way.
Plus, this ring has a coily little tail, giving it more of a serpent look and feel. Also, this ring has some flex to it. So, if you don't get the perfect size, it is malleable enough to adjust to a good fit.
---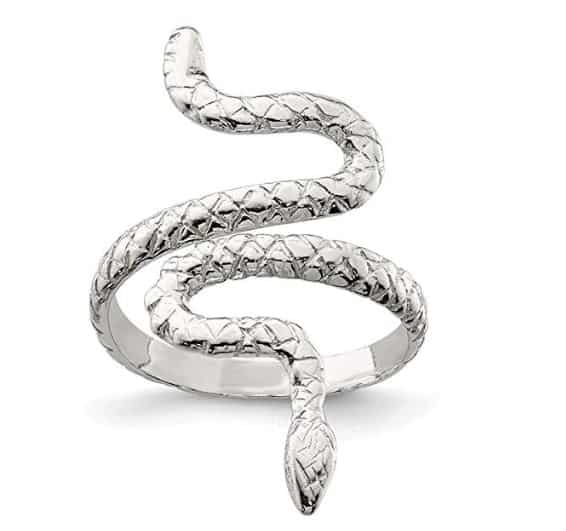 Looking for a silver snake band wit ha little more texture? Well, you just may have found it. This ICE CARATS Sterling Silver band has a pattern engraved in it that is supposed to mirror the scales on a snake.
If you ask us, they did a pretty darn good job. It's a stylish ring, and is real Sterling Silver; so it's quality, too.
The ring comes in various different sizes, and is coiled so can be adjusted to fit. So, if you don't get the perfect size, don't fret. You can likely stretch it slightly to be tighter or looser depending on your finger size. A solid overall choice in our opinion.
---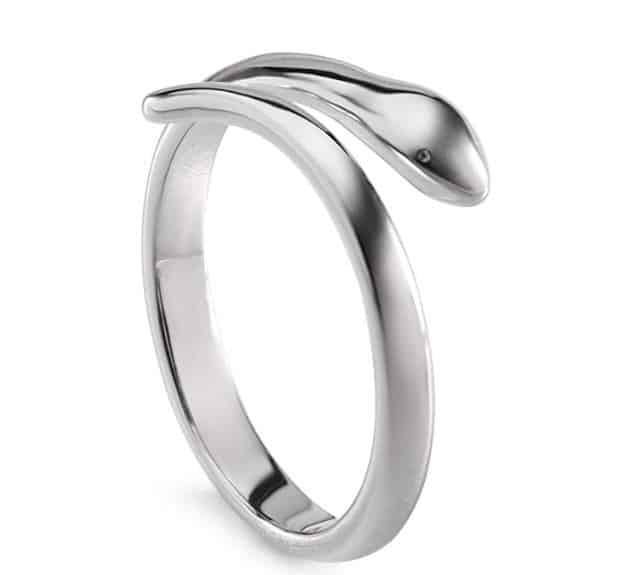 When it comes to minimalism, this ring meets all the criteria. It's sharp, to the point, and makes a statement in a subtle manor.
JEWME really outdid themselves with this serpent-esque band. It's got all the components of a snake, and can be worn with a multitude of different styles.
Lastly, this ring is 925 sterling silver, and can be adjusted from a size 6.5 up to about a size 9. Since it's a "Twist" style, you'll easily be able to either stretch the ring or tighten it up depending on the size of your finger.
---
This cute little snake ring packs a punch with aesthetics. From afar, it may seem like a small silver twist ring. But up close, the features of this band really shine.
The little black eyes coupled with the snake skin texture add some dimension to this silver snake ring. While others are more smooth and basic, this one is a little more "fun" — great if that's your kind of style.
Additionally, it comes in either silver or gold. The base metal is copper, and it is plated with gold/silver.
Since the ring is a twist style, it is slightly adjustable to the size of your finger.
---
Snake Rings with Jewels
---
Want a little extra flair for your serpent ring? Try exploring one with jewels. Alchemy Gothic made this medieval looking band, and it comes fashioned with a green gem in the eyes of the beast.
Plus, this looks far more Gothic than other options on our review. The ring boasts a more rough and dark look, perfect for those who have that kind of style.
This ring can be worn by either men or women, but it seems to be mainly for men.
---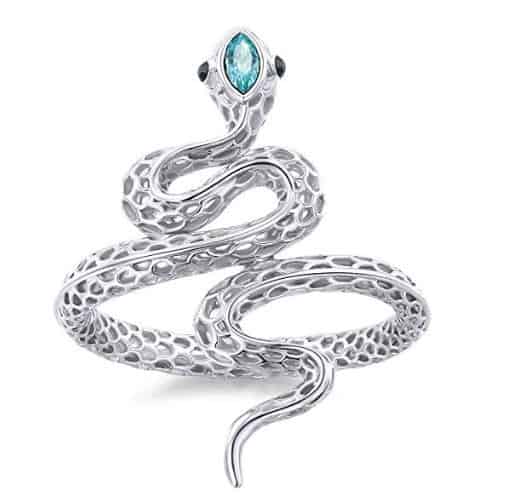 Looking for a more feminine snake band with a lighter, more colorful feel? KOAEM has you covered with their hollow silver snake band. It has a fancy, light blue crystal embedded in the head of the snake.
Also, the hollow style makes this ring more accurately represent that of a real snake's body.
This is likely the ring that most resembles a snake on our list. It has very expressive curves, and makes for an excellent fashionable ring to keep in your jewelry box.
The ring come in different sizes, and does not adjust like previously mentioned rings.
---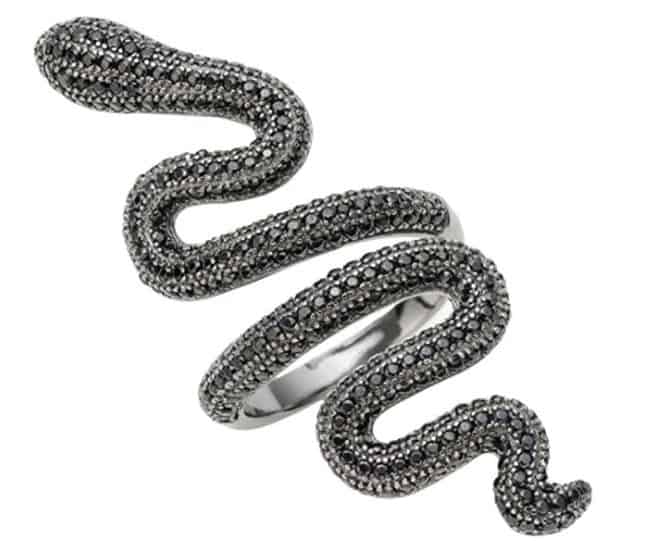 Rather than one singular gem, this snake band is riddled with small, black gems throughout the length of it's "body".
The Taylor Swift Snake Ring is somewhat iconic. It's shown up on a album cover for one of her singles, and it was in response to some controversy. She's worn it on several occasions, and it's become quite the popular style over the last few years as a result.
It's a downright statement of a ring, and comes in several different colors.
---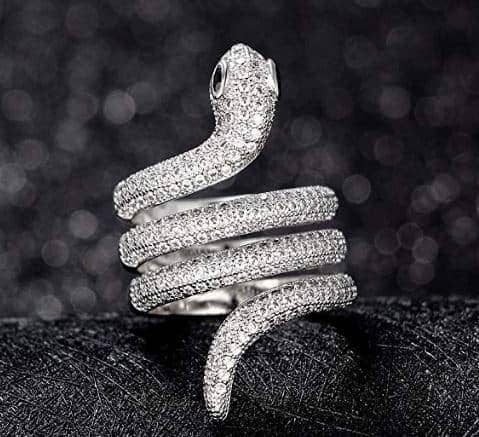 Kemstone's delicate creation will awe your friends and family. This twisted snake band almost looks like a regular twisted band at first glance.
Upon further inspection, one will notice the little snake eyes and curved tail.
Encrusted with many small gems, this snake band offers flair mixed with a little "punk" style. The ring is silver plated, and comes in a variety of different size options.
---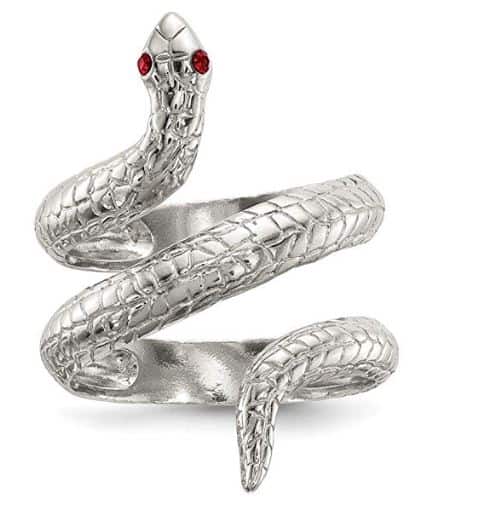 If you're looking for a more Gothic style serpent ring with a pop of glaring red, look no further. ICE CARATS made this bold, rough-cut ring with groves that closely resemble the scales on a snake.
In fact, this might be the closest texture to a real snake out of any ring reviewed in this post.
Not to mention, the red gems in the eye of the snake give off an intimidating vibe. This ring is perfect for a costume, and also for a more "hardcore" look.
---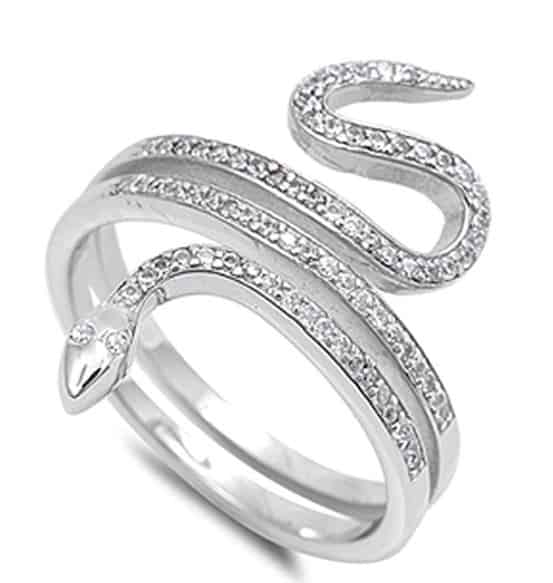 Sac Silver's Sterling Silver Serpent Ring is a closely coiled ring beset with small gems. It's discrete, stylish, and has a lot of curvy dimensions to it.
The best part about this ring is the tail. The rest of the ring is more subtle, and the tail is emphasized. That feature gives a different look and vibe to this ring, and it's one very unique compared to other snake bands.
Additionally, this ring is over 90% sterling silver. It's definitely a higher quality than others on here. It also comes in a wide range of sizes and a few different color options.
---
Women's Gold Snake Rings
---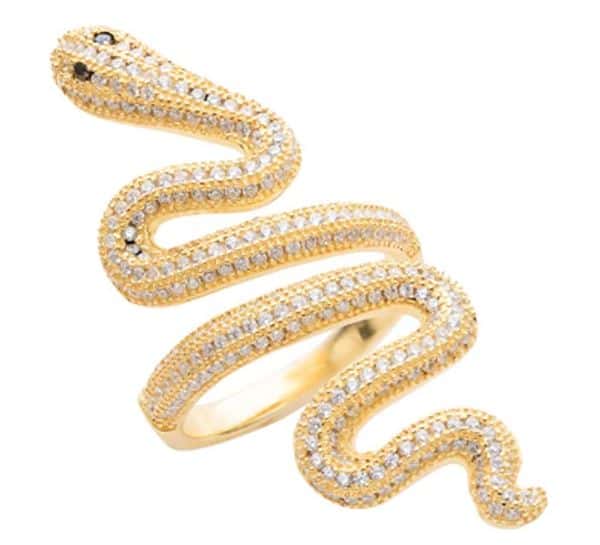 As mentioned above, the Taylor Swift gold snake ring is a somewhat iconic. She created it in response to bad press, and it's definitely a statement piece.
Plus, it's got a chic design that will draw in a ton of compliments from anyone who sees it.
It's a stunning ring, and comes in a variety of different colors and sizes.
---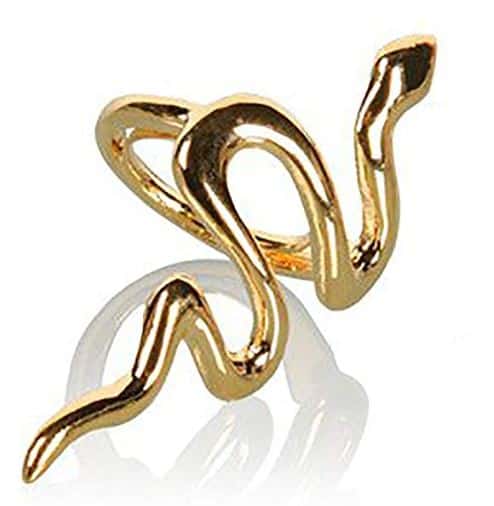 This 18k plated gold snake ring by Kenneth Jay Lane has extremely accentuated curves and bends. Plus, it's polished gold, so it will shine a lot more as a result.
This style has more of an "ancient Cleopatra" feel to it, because it looks as if it was hammered by a gold smith in 69 BCE.
The golden serpent measures 2 inches long, so it's a definite statement piece that folks will notice.
---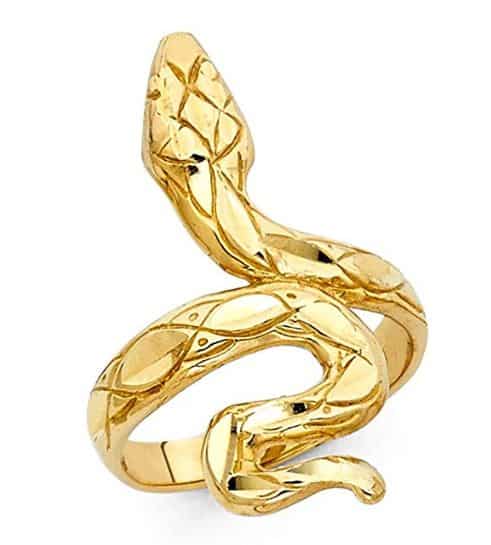 Want a more bulky golden snake band? Lix made this ring for that exact purpose, and it has a little more umph to it.
Again, this ring looks as if it were hammered out by a gold smith in ancient times. So, you'll definitely get that historic Egyptian goddess look with this option.
Overall, it's really appealing, especially with the grooves and patterns that stretch over the top of the ring all the way up to the "head" of the snake.
---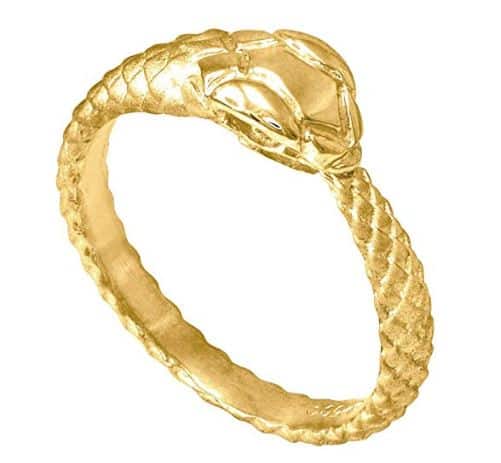 This FDJ Collection ring is unique in the sense that it's one of the only non twist/curve snake bands we could find. Also, it's solid 14k gold, so it's much higher quality compared to the other gold plated options available.
When it comes to craft and artisan-ship, this ring takes the cake. It's an incredibly artistic ring, and it looks as if a snake bit it's tail and turned into gold.
Not to mention, the texture of the ring resembles that of a real life pit viper.
---
Rose Gold Serpent Bands for Women
---
Are you surprised the Taylor Swift serpent ring also comes in Rose Gold? It's a favorite of ours, and we thought it deserved to make an appearance in just about every category here.
If you missed it above, the Taylor Swift Snake Ring was created by the musical mastermind herself. She made this ring in response to some negative press, and it has since become somewhat iconic.
You will likely see many die-hard Taylor Swift followers wear this stunning piece.
---
Jewels By Lux makes another appearance on our review with it's delicate yet powerful rose gold band.
It's simple, it's stunning, and it's an absolute must own for someone who loves rose gold an wants this type of ring.
With a smooth surface and a not so in your face serpent design, this solid rose gold piece will be a great addition to anyone's jewelry box.
---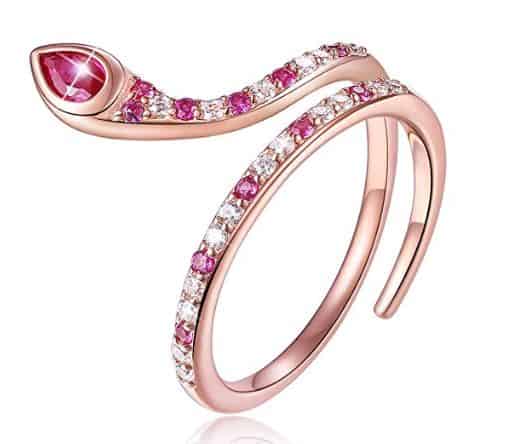 Want a ring with a little more pizzazz? FOREVER QUEEN created this beauty with alternating clear and pink crystals. It also has one large crystal on top of the head of the "snake".
It's a nice piece, but it's definitely not for everyone. Then again, all of these rings are going to be preferred by different people with different tastes. It's definitely and eye catcher, that's for sure.
---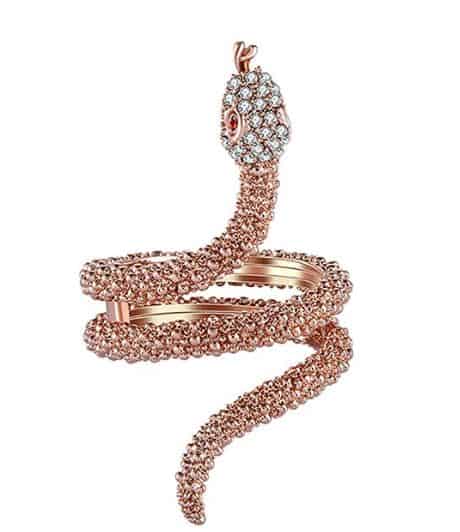 This rose gold snake band has a head full of crystals and a body full of rose gold snake skin texture.
It's definitely one of the more "loud" ring options on this list, and also has some ruby red gems for eyes.
This is a non adjustable ring that varies in sizes, so you're in luck if you need something flexible.
---
Other Posts to Read