Snakes. Feared by some, and admired by others.
They also make some of the best pets.
If you're reading this, you are probably either considering a pet snake for yourself or wondering if it's right for your kids.
Well, you came to the right place. In this guide, we will cover the best pet snakes, and all the info you need to know about them. Additionally, you will learn the key pieces of information to owning a pet snake.
There are many different levels of pet ownership.
If you're new, you'll want to make sure you get a beginner pet snake, as some breeds are harder to care for than others. Plus, you'll also need to make sure you know how to set up the right climate for the snake you choose.
Do Snakes Make Good Pets?
Yes! Of course, snakes make great pets, and there are plenty of beginner snakes for new owners.
That said, there are many nuances to owning a pet snake. While pet snakes can be excellent companions, make sure you know all of what it takes to own one before moving forward.
First, they don't eat like normal pets. You'll need to be prepared to feed a live or frozen mouse to a snake 1-2 times a week.
Also, snakes require a certain amount of maintenance and care. You can learn about the specifics of owning each of our best beginner snake recommendations further on.
Here are just some of the things to take into consideration if you're a beginner pet snake owner:
Pet snakes are cold blooded, and typically require heat sources
Snakes make excellent pets, and can be friendly, comforting, and sociable
Owning a pet snake is way less demanding than owning other kinds of animals like dogs. They are fairly low maintenance and easy to care for.
A pet snake terrarium can be a piece of art if done correctly, making any space look very nice
There are many different breeds, morphs, and cool patterns to choose from when it comes to pet snakes. You can get one that matches your personality
Pet snakes are great for kids who are interested in wildlife. Often times, they can be a good introduction into learning more about nature, biology, and ecology.
Best Beginner Pet Snake #1: The Corn Snake
Corn Snakes are often revered as the most commonly owned friendly pet snakes, and for many reasons.
To start, they are widely accessible, not too expensive, and are very easy to maintain. That's exactly why this breed is one of the best beginner pet snakes available.
They are also one of the most friendly and docile pet snakes available. In most cases, Corn Snakes are easy to handle and are safe around just about anyone. Of course, they do bite on occasion, but it's nothing to be worried about.
Corn Snakes (Pantherophis guttatus) are in the Rat Snake family, and are native to North America.
In the wild, Corn Snakes enjoy grassy, wooded areas and can be most abundantly found in the midwest and southeast.
Little known fact, Corn Snakes are really great "helpers" to humans in the wild. If you see a wild one, don't kill it! They do an excellent job controlling and maintaining rodent and other woodland pest populations.
Check Out Our Complete Corn Snake Care Guide
Learn everything you need to know about owning and caring for a Corn Snake.
Captive Corn Snakes can come in many different morphs, color schemes, and frankly, sizes. One of the fall backs of going with a Corn Snake is that sometimes the sizes can vary quite a bit.
Typically, they average about 40 inches in length full grown. That said, they have been known to grow up to 50 and even 60 inches long.
Because there's such a wide range of size, it's best to ask the breeder you purchase it from how big they'll think it will get. When it comes to cost, a Corn Snake is on the cheaper side, usually running between $20-40 USD.
Keep in mind, that doesn't include the cost of a terrarium, food, etc. Also, if you get a fancy albino morph or other exotic morph, those will cost more.
Overall, Corn Snakes are excellent beginner pet snakes and are very easy to care for. They don't require any crazy-unique-special care, and would be best suited for a new and aspiring snake owner.
Pros: Why Corn Snakes Make Great Pet Snakes
Easy to maintain, don't require a lot of advanced cage setup
Very friendly, one of the most docile and easy to handle pet snakes
Runs on the cheaper side to own and maintain
Huge variety of different morphs (colors & patterns)
Typically, Corn Snakes don't grow too large
Easy to feed
You can get a Corn Snake just about anywhere that sells snakes
Great if you want to have multiple snakes in the same terrarium
Cons: Why a Corn Snake Might Not Be for You
Depending on the morph, they aren't as unique or exotic as other snakes
Like all snakes, they live to be very old. Corn snakes can sometimes live 20+ years
It can be hard to gauge how big a Corn Snake will become because their size varies greatly
You flat out may not like the look of them. That's OK! There are plenty of other beginner pet snakes to choose from.
Best Beginner Pet Snake #2: California Kingsnake
California Kingsnakes are my personal favorite when it comes to owning a pet snake. Partially, because they look really cool, but mostly because my first ever pet snake was a Cali King.
Like Corn Snakes, this breed is widely available and native to North America, mostly on the west coast.
Speaking of Corn Snakes, this breed is very similar when it comes to ownership. Essentially, the only difference is that unless you're experienced, we highly recommend keeping your California King Snake by itself in captivity.
Only breeders and experienced owners should have more than one Cali King in an enclosure.
The reason is that this breed of snake is known to eat other snakes. They're even known to be cannibals, and eat other California King Snakes, too.
So, to avoid any traumatic experiences, it's best to keep these guys separated from any other snakes.
Check Out Our Complete Guide to California King Snake Care
Learn everything you need to know when it comes to Pet California King Snake Ownership
California King Snakes (Lampropeltis getula californiae) make great beginner pet snakes.
They have cool patterns and come in many different varieties to choose from.
Cali Kings are also super friendly! They tend to be incredibly social and active throughout the day. Often times, they will be slithering about and will greet you when you walk in the room.
My wife (girlfriend at the time) always claimed he would come out to "size her up" when I wasn't there… Some people just aren't snake people like us.
There is one thing to be wary about with California Kin Snakes as pets, though. These little fellas like to try and escape. Many times, I would see Stanly (my first Cali King pet snake) trying to push the mesh cover off of his tank. He succeeded a few times, and even went missing for a few days. Luckily, we found him!
While these pet snakes are little escape artists, as long as you clamp down your terrarium and make sure no exit is loose, you will be fine.
Also, these best beginner pet snakes don't get too large. Usually, they will grow somewhere in between 36-48 inches long. Only specimens will get up to ~60 inches, and that is highly unlikely with captive California King Snakes.
Price wise, this species doesn't run too high. California King Snakes usually cost somewhere between $60-100.
In Summary, California King Snakes also make great beginner snakes. Mostly, because they are easy to care for, don't require much special attention or care, and are a friendly species.
Pros: Why A California King is One of the Best Pet Snakes
This species is very social and friendly. If you want a snake that will be active, this is a good option
Cali Kings are great eaters and are easy to feed
Don't normally grow too large, and size doesn't vary as much
They are beautiful! I personally love the look of this pet snake
They are easy to maintain and don't require an extravagant setup
Cons: Why a California King Might Not Be the Pet Snake for You
These pet snakes are escape artists. If you don't properly secure their enclosure, they will likely find a way out
California King Snakes don't have much variety when it comes to color and pattern. Very limited morph varieties
Cannot have multiple California Kings in one enclosure. They are cannibalistic
Best Pet Snake #3: Hognose Snake
Both Western and Eastern Hognose Snakes make really excellent first time pet snakes. Like the two above snakes, most pet Hognose Snakes are native to North America.
Now, it's worth mentioning that Eastern and Western are the ones you should look for if you're considering this breed for a beginner pet snake.
Other breeds like Madagascar Hognose Snakes get much larger and should be reserved for more advanced snake owners.
Anyway, Eastern and Western Hognose Snakes have a lot of appeal because they do not grow all that large, which makes them good beginner pet snakes. Size depends on the sex of the snake, but typically Hognoses only grow between 24-36 inches.
Because of the smaller size, new snake owners (or their parents) are usually more comfortable with Hognose Snakes because they're less intimidating.
Check Out Our Complete Guide to Hognose Snake Care
Everything you need to know about buying, owning, and maintaining Hognose Snakes as pets.
The Hognose Snake (Heterodon) is one of the best beginner pet snakes with a bit of a catch. They require a regular light schedule, and they can be finicky eaters at a young age.
If you choose to get a Hognose Snake, be sure you ask the breeder if they have properly acclimated the snake with feeding. Also, do your research on the type of lighting and heat these friendly pet snakes need.
It's not hard, and you can figure out everything you need to know in the above guide.
Of all the snakes on this list, these are the most unique looking in the sense that they have an upturned snout. Hognose Snakes also come in a large variety of different morphs, so there's a lot of different patterns and colors to chose from.
With all this in mind, these snakes are technically venomous. Not to worry, though. Their venom is extremely mild and has little to no effect on humans. It wouldn't hurt any more than a bite from a different kind of non-venomous snake. You can learn all about Hognose Snake Bites here.
Oh, and sometimes these pet snakes like to play dead. It's their form of defense when cornered by a predator or something scary.
Overall, these snakes are incredible cute, very friendly, and wonderful to handle. Pet Hognose Snakes are great for beginners. That said, make sure you know all the steps to give them proper care before purchasing.
Pros: Why Hognose Snakes make a Great Pet Snake
Quite possibly the cutest pet snake one can own
Generally stay small, less than 36 inches
A lot of variety when it comes do different colors and patterns (morphs)
Very friendly snakes with a lot of personality
Generally easy to maintain
Cons: Why This Pet Snake May not Be the Best for You
Can be finicky eaters when young
Some people may want a larger snake, these don't grow that big
Require more strict humidity and lighting for their terrarium
Best Pet Snake #4: Ball Python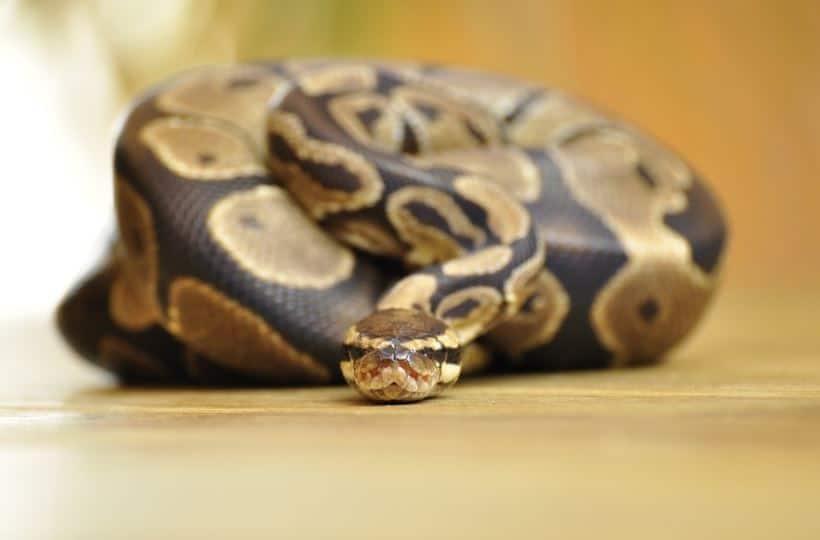 Like the Hognose, Ball Pythons aren't as easy to care for compared to Cali Kings or Corn Snakes.
Having said that, Ball Pythons are still a good choice when it comes to the best pet snakes for beginners.
Ball Pythons are among the most commonly owned pet snakes out there.
They are very docile by nature, and usually are calm, not too active, and relaxed. Additionally, Ball Pythons don't require any lighting schedule, so you can get away with a heating mat to regulate temperature.
If you want a snake that will be very active and lively, this is probably not the one for you. These pet snakes tend to hide away when in captivity. Usually, they will be hiding under the bedding of the terrarium or in a little hide.
They aren't very social, especially compared to the above best pet snakes.
Ball Pythons (Python Regius) are tropical snakes native to Sub-Saharan Africa. Of all python species, these are one of the shortest in length. That's a big reason why they are popular pet snakes, especially for beginners.
Although they don't get too long, Ball Pythons will have a much larger girth than when full grown in comparison to the aforementioned snakes.
Check Out the Complete Guide to Proper Ball Python Care
Learn everything you need to know about owning and caring for a Ball Python
Depending on whether you're getting a male or female, Ball Pythons usually end up being between 36-58 inches when full grown. Females tend to be slightly larger than males.
Aside from the docile nature and smaller relative size, Ball Pythons are hugely popular because of the wide variety of morphs they come in. Morphs are essentially different colors, patterns, and sometimes textures that a Ball Python can have. There are over 500 different Ball Python morphs.
That's a lot of different options! And some of them look really, really cool.
There are hundreds of different patterns of Ball Pythons, which draws attention to the breed because of how "cool" they can look.
Depending on the morph, Ball Pythons usually cost $40-50 on the low end, and up to $500 on the high end. Some morphs are extremely rare, making them much more expensive — some even get into the $1,000s of dollars!
At the end of the day, regardless of morphs, Ball Pythons are easily the best tropical beginner pet snake.
They don't get too large, are usually friendly, and don't require too much special treatment. Be sure to check out the above guide if you're considering buying a Ball Python as a first pet snake.
Pros: Why Ball Pythons Make One of the Best Pet Snakes
They come in a TON of different color, pattern, and texture variations. Over 500!
Extremely popular, so there are a lot of resources, guides, and communities for Ball Python pet owners.
They don't grow too long, but they grow very thick
Typically very calm and docile, mostly easy to handle
Generally easy to feed
Cons: Why Ball Pythons May Not Be for You
Get super girthy. If you want a smaller snake, Ball Pythons don't grow long, but they grow thick
Are usually very docile. Will mostly hide and avoid you when it's in the enclosure. Not great if you want an active snake
Sometimes these pet snakes aren't as friendly as others. They are known to bite and hiss more than the above 3 beginners snakes
What You Need to Know Before Owning a Good Beginner Pet Snake
Should I Catch a Wild Snake for a Pet?
Nope. If you want a pet snake, you should go through an established breeder or snake seller. Catching a wild snake for a pet is a bad idea for a number of reasons. First, wild snakes can be shocked when going from a natural environment to a captive one. This can cause stress and eventually, death.

Also, wild snakes can have mites, disease, and infections. Captive snakes are they way to go, and they aren't that expensive. If you enjoy herping or searching for wild snakes, it's better to simply observe them in the wild as opposed to capturing them. When it comes to pet snake ownership, buying from a breeder is the way to go.
How Long Pet Snakes Live in Captivity
Be prepared for your new pet snake to live 10, 15, and even 20 years. Depending on the breed, snakes can live for a pretty long time. Pet snake owners should be in it for the long run. Be sure you at least have a somewhat long term plan if you are thinking of being a first time snake owner.
Beginner Snakes vs. Advanced Snakes
If you're a first time snake owner, be wary of the breed of snake you choose. The first time I bought a snake, there was an Anaconda for sale in the breeders collection. Thankfully, I chose a California King Snake instead of the Anaconda.

Coincidentally, some breeds are much more challenigng and demanding to take care of than others. Make sure you know what you're getting yourself into before buying a pet snake. Also, you should only get a more advanced breed if you know what you're doing. Every hear those stories of 17 foot long Burmese Pythons being caught in Florida? That's because some rookie snake owner decided to release it into the wild after it got too large.

Be careful what you choose! Situations like that are exactly why we create this guide. When it comes to first time pet snake ownership, we highly recommend going with one of the above breeds. If you want to go a different route, make sure you question the breeder and know what you're getting in to.
Are Pet Snakes Dangerous?
Not at all! If you follow all the right steps and get a snake from a reputable source (like a breeder or online store), then you have nothing to worry about. Captive snakes are not dangerous at all. Usually, there is a stigma toward snakes, which is why many think they are dangerous. In reality, they can be friendly and interesting pets. Also, they can even develop relationships with humans and show intimacy just like other kinds of pets.
How Often To Feed Pet Snakes, and What to Feed Them
Again, this depends on the breed. All of these beginner pet snakes should be fed rodents. It's best to avoid feeding pet snake anything else but frozen mice. Frogs, fish, lizards, etc. although they may be consumed in the wild, can often have harmful bacteria and viruses. This can cause captive snakes to fall sick or more prone to an infection.

As for how often to feed the snakes, it also depends on breed. Typically, you'll want to feed a captive snake 1-2 times a week when they are young. As they grow older, snakes can usually eat once every 7-12 days. Again, it depends on the breed and you can find more information in our in depth snake guides.
Do Pet Snakes Bite?
Usually, no. Captive snakes rarely ever bite. Every now and again, you'll hear about them biting. That said, snake bites are very easy to avoid and usually snakes one bite their prey. If you want to learn more about snake bites and what to do in the off chance that it happens, you can learn more about bites here.
Pet Snakes to Avoid, Especially for Beginners
Not all snake species are the same, especially when it comes to jumping into the world of pet snake ownership. As you probably know now, the above recommended beginner snakes are vastly different.
With that in mind, you should definitely avoid certain species unless you're prepared to go the extra mile. Here are some snakes to avoid for beginners, and some all-together.
1. Rattlesnakes or Other Venomous Snakes
It might seem obvious, but you should absolutely avoid owning venomous snakes like rattlesnakes as a pet. While beautiful, these are incredibly dangerous animals and should not be reckoned with.
The above snake is a Molted Rock Rattlesnake, and admittedly, looks really cool. Don't be fooled by it's good looks though. One bite from this ferocious fellow will 100% result in a visit to the hospital, and could even lead to further… let's say "complications".
2. Green Tree Pythons
This is one of my favorite species of snakes. They look stunning, delicate, and incredibly unique. Green Tree Python's are pretty common pet snakes, but are better off for more experienced owners and enthusiasts.
Dispite their vibrant color and the cute way they wrap around branches, these fellas can be tough to manage day in and day out.
They require strict light schedules, can sometimes be finicky eaters, and in general have more health issues than our recommended beginner snakes.
While they are totally suitable pet snakes, it can take a lot more time, energy, and maintenance to manage Green Tree Pythons.
3. Anacondas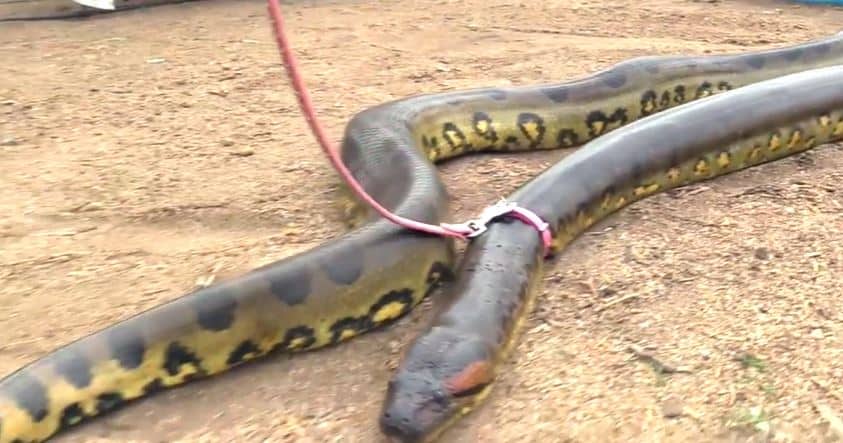 Do Anacondas make a good pet? Absolutely not. This species can grow up to 30 feet long and a whopping 550 pounds. That's a lot of snake and is definitely not for the average snake owner.
Yes, some people have these as pets. But, they're more often seen in captivity in zoos and animal rescue organizations.
I remember when I bought my first snake, the pet store I got Stanley (California King Snake) had a baby Green Anaconda for sale. It was one of the most beautiful snakes I had ever seen in person, not to mention very friendly and apt to being held.
Looking back, how could they ever justify selling an Anaconda to a 12 year old? Luckily, my Dad's better judgement led to us going with a Cali King instead. But man, was it a good looking snake.
Summary: Pet Snakes are a Rewarding, Enlightening Experience
If your a first time snake owner, or a parent or loved one of a first time snake owner, take a deep breath. The journey to pet snake ownership is an exciting one!
It's also a very rewarding hobby. Personally, I have learned so much about wildlife, biology, and genetics from owning a pet snake. They are a door into a whole new world of wildlife.
There are several pet snakes that are better than others. In general, you should try and stick with one of these species for your first pet snake:
Corn Snakes
California King Snakes
Hognose Snakes
Ball Pythons
It's also best to avoid catching a wild snake as a pet. They are often ridden with mites, and don't do well in captivity. There are many places to find a pet snake, too.
You can get one at your local pet store, a local breeder, and you can even buy one online.
Please comment if you have any questions, and be sure to follow us on Pinterest for new snake content.
Read Also: